Here Comes The Sun Ukulele Chords
Here Comes The Sun Ukulele Chords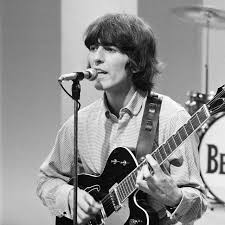 England has long winters but in the spring of 1969, when George Harrison wrote "Here Comes the Sun", the month of April set a record for the number of sunlit hours that would not be beat until 1984.The upbeat cheeriness of this much beloved song makes it well suited to the ukulele.
Playing Hookie with Eric Clapton
George wrote the song while playing hookie from a business meeting at Apple records. He spent the day wandering the gardens of his friend Eric Clapton's country home, inspired by the warm sunshine of a much needed spring day.
Here Comes the Sun Ukulele
Written in the key of A, the majority of the song is simple to play, using only four chords, A, D, E, and B7. The one tricky section of the song involves a meter change, the way the beat is counted. At the end of each chorus the lyrics "Sun, sun, sun, here it comes" are played in a ⅜ time signature which simply means three beats are counted for each bar instead of four. This takes some practice to get used to but if you are familiar with the song, it should come easy.
This same section also holds the remaining chords of C and G. There are a total of six Here Comes the Sun ukulele chords in the song, making for a fun and challenging tune to learn. At Center Stage Ukulele Academy, we have the complete lesson video in two parts that also covers the melodic guitar line from the intro and all the tablature, which can be found here:
Here Comes the Sun Ukulele Chords
Take a sunny day and get into the same vibe as George Harrison in Eric Clapton's backyard to learn this song on ukulele and welcome spring with a day of playing hookie!
-Ashley Shepherd
Center Stage Ukulele Academy
Join Our Community Here and Learn How To Play!